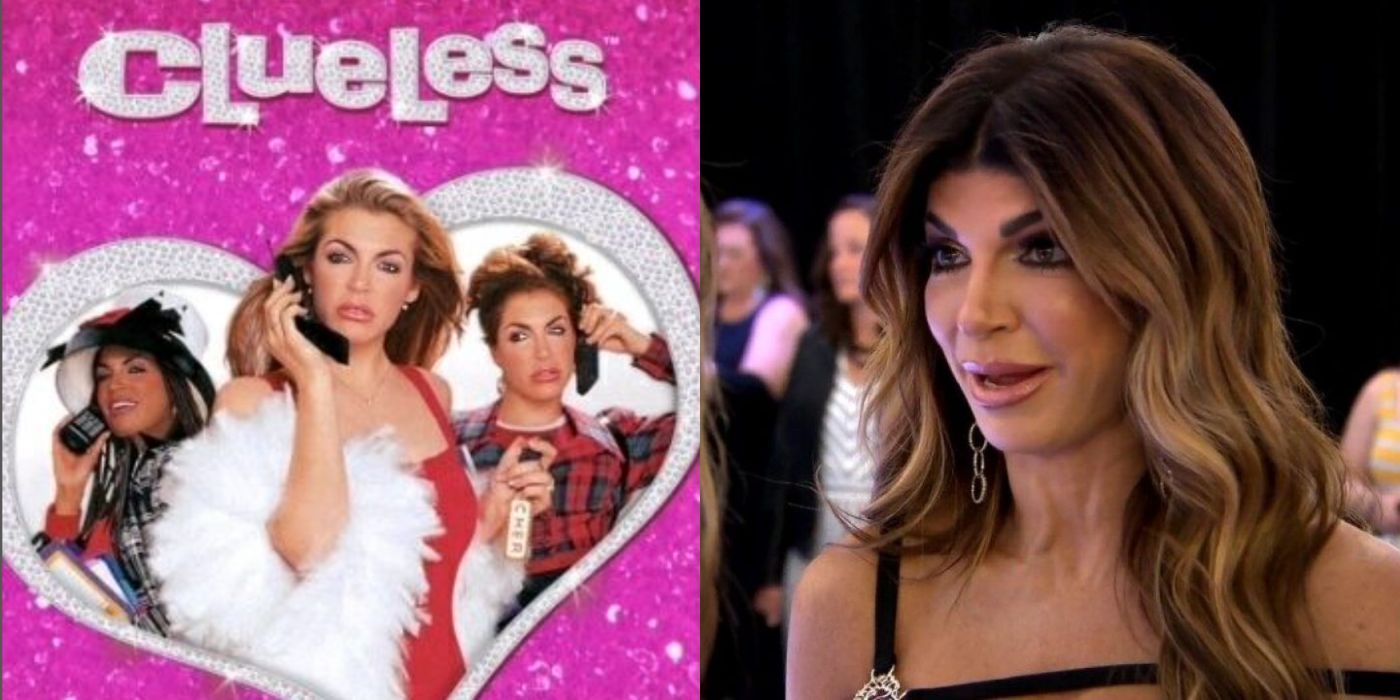 Teresa Giudice is on every Bravo fan's mind these days thanks to her recent wedding and the ending of filming season 13 of The Real Housewives of New Jersey. Teresa's wedding to Louie Ruelas was a controversial one because of the multiple negative reports that came out about him in season 12. At the same time, the wedding was a treasure chest of Bravolebrities, including those from RHOC, RHOA, and RHODubai.
As happy as Team Teresa fans are for her "love bubble" being intact, she's also one of the more memeable Housewives because of her hot-tempered attitude and dim-witted responses. Funny enough, many of these memes sum up Teresa's character and can be viewed as serious and in jest.
The Hair That Everyone Is Talking About
As aforementioned, Teresa had a star-studded wedding, filled with Bravolebrities, flowers, and $10,000 worth of hair. In an interview with Teresa's hair stylist, she noted that between the extensions, style, and her fee, Teresa's wedding day hair was an expensive one.
RELATED: Everything We Know About Teresa Giudice's Wedding On RHONJ
Because of the sheer height and length of Teresa's hair, countless memes were made. @Bravooomg created this hilarious meme with Teresa's hair as the image for the Broadway show Hairspray. This meme was central for Teresa's character because she cannot deny how much hairspray and bobby pins went into this hair-do.
The Never-Ending Feud
Teresa and Melissa's ongoing feud is alive and well today. When Melissa joined the series in season 3, viewers quickly learned about their tense relationship. Ever since Melissa married Teresa's brother, Joe Gorga, things went downhill for the family.
This meme by @RealityWineDown poked fun at all the Bravo fans who have talked about the family's epic feud that is still going on today. While Melissa and Joe were invited to the wedding they declined last minute, which only made rumors spread like wildfire all the more. Knowing that Teresa has also had to explain her side in the feud countless times, this meme is relatable to her personality.
Horses Aren't For Everyone
Some of Teresa's biggest feuds were with the Manzo, Laurita, and Wakile families. In the early seasons, Teresa tried to make things right with her former friends, so the cast went on a handful of group therapy trips. In one episode, Teresa and co. traveled to Arizona where they had to work with horses.
Teresa was terrified of horses and by the looks of it, the horse didn't care for Teresa either. @HwivesFantatic nailed Teresa's personality on the head with this meme. While Beyoncé looked poised on her horse, Teresa didn't care for it.
Teresa Ignored A Lot Of Red Flags With Louie
Although Teresa loves Louie and married him, she has ignored a lot of red flags thrown her way that revolved around her husband. While the two were engaged, her fellow Housewives found out some compromising information about Louie.
From being charged with simple assault after a road rage incident (according to Page Six) to filing for bankruptcy to claims of abuse from his exes, Louie's past isn't simple. However, Teresa has stood by his side and defended him countless times. @TresAmigas_WhoopinItUp compared Teresa's red dress to the red flags she should have dealt with, making this a hilariously true meme.
Teresa's Go-To Expression When Things Go Awry
As amazing as it is watching Teresa be calm and take care of her four daughters, there's something incredibly entertaining about watching her in arguments with her fellow Housewives. Some of Teresa's best RHONJ episodes revolved around her conflicts and her resolutions.
Whenever something happened that caught Teresa off-guard, her face looked like the compilation in the meme by @Blocked_By_Jax. More specifically, Teresa was stunned beyond belief when RHONY's Ramona Singer accidentally released Teresa's wedding day information on Instagram, which caused a lot of stress for Teresa. As silly as this meme is, it's not far from reality.
Teresa Is An OG But She's Not Great At Apologizing
@TheBravoConvo made a super relatable meme for Teresa's personality. Although she's an OG who has been through the highs and lows of reality television, she hasn't learned how to take accountability or properly apologize for her wrongdoings.
RELATED: Danielle Betrays Teresa (& 10 Other Iconic Feuds)
During the season 12 reunion, Teresa said some unforgivable things to her brother Joe, which prompted Andy Cohen to ask Teresa to apologize to her brother. The problem was that Teresa never knew what she was apologizing for or why she was apologizing if she didn't feel sorry. Teresa pulled the same card during the regular season and never seemed to learn when she was in the wrong. Teresa's feuds were iconic for a reason, and her poor response to them was part of the drama.
Don't Talk About Her Man
It's hard to say if Teresa and Louie have one of the best relationships in the series because they're relatively new and Louie hasn't been in many episodes until season 12. However, Teresa defended her husband's name countless times to naysayers.
RELATED: 8 Best Relationships On RHONJ
When the women heard poor things about Louie, they were worried about Teresa. But their concern over her relationship bothered Teresa, and she acted out in anger whenever his name was brought up. This tweet perfectly summed up Teresa's personality because she did not care for anyone saying her fiancé's name.
Tre Huggers Defend Teresa Until The End
It doesn't matter what Teresa says or does, there are some fans (who call themselves "Tre Huggers") who guard Teresa's responses with everything they have — especially in the comments section on Instagram.
This meme by @TheRealFansOfBravo used this popular RHOC cat meme to show how unbothered Tre Huggers are by Teresa haters. Likewise, this is how calm Teresa acts when Housewives don't like her. These days, Teresa stays in her lane and focuses on her love bubble.
Will Teresa And Melissa's Bitter Hatred For One Another Ever End?
Teresa and Melissa had their ups and downs. They had a good streak for the past couple of seasons and remained united as family members, but since Melissa and Joe didn't go to the wedding, fans are warned that season 13 could be one of RHONJ's most dramatic ones yet.
At the season 12 reunion, fans found out that Teresa still held a grudge over Melissa for not changing her wedding date almost 16 years ago because Teresa was pregnant at the time. Knowing this, @Blocked_By_Jax poked fun at Teresa finding solace in dressing Melissa in a heinous bridesmaid dress. Teresa would deny being this petty, but fans wouldn't put it past her. Quotes that Teresa has said about Melissa have summed up her personality and made her actions against her sister-in-law questionable.
The Crossover Bravo Fans Didn't Know They Needed
@PettyFreddySpaghetti made an iconic meme with Teresa's face over the cast of Clueless. It's often said in the Bravo world that Teresa is clueless and only focuses on side of the story instead of a whole.
When Teresa and Louie were engaged, she told Andy on WWHL that she and Louie weren't doing a prenup. Considering her and Louie's past legal issues, and the fact that she already went to prison for fraud, it would be clueless of Teresa if she ignored this important step in her high-profile relationship. She's often the best cast member in every RHONJ season but her oblivious takes on dramatic situations can be eye-opening.