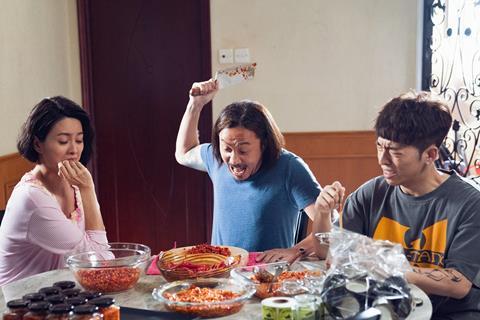 Disney blockbuster Thor: Love And Thunder led the Hong Kong box office on its second weekend of release but was beaten in terms of admissions by local family comedy Chilli Laugh Story.
Coba Cheng's Cantonese comedy earned $1.06m (HK$8.3m) over its opening weekend (July 14-17), making it the third highest four-day opening weekend for a local film in the Covid-19 pandemic. It recorded 123,587 admissions, which was 14.3% higher than Thor: Love And Thunder.
However, the Marvel superhero sequel grossed 4.9% more in ticket sales ($1.11m /HK$8.7m) than the Hong Kong film as screening included premium formats such as IMAX and 4DX, which come at a higher ticket price. When including revenues from preview screenings, Chilli Laugh Story took the lead with a cumulative total of $1.4m (HK$11.1m).
It signals a positive sign to the industry, which has been hit hard by the pandemic. With Hong Kong cinemas closed for almost four months from January 7 to April 20, only 15 Hong Kong films have been released, which have not even topped HK$5m ($637,000) in combined box office.
Chilli Laugh Story was original scheduled for Chinese New Year almost six months ago.
"We waited until the big Hollywood films were out and until Thor was in its second week when we could secure more cinema screenings," We Pictures COO Esther Yeung told Screen of the release strategy. "The audiences also need some time to go back to the cinemas. An 85% occupancy rate is now allowed, up from just 50% when cinemas first reopened in late April."
Yeung added that it was a normal weekend without any public holiday and school summer holidays have yet to start in Hong Kong.
The film was conceived during the pandemic by first-time director Cheng based on his own lockdown experience. The story follows a young man, played by Edan Lui from boyband Mirror in his feature debut, who starts to bottle his mother's homemade chilli sauce. The recipe becomes an online sensation, while the family contend with being contained at home.
"It's an uplifting film about finding a way out to survive the pandemic," added Yeung. "It's like a visual record of Covid history in Hong Kong, with references about the fourth wave, during which the film was made. Audiences can relate well to it."
The cast also includes Sandra Ng, Ronald Cheng and Gigi Leung. Ng's Treasure Island was the production company, while sales and distribution are handled by We Distribution.
Although its overseas schedule was disrupted because of the Chinese New Year release delay, it was able to rebook a day-and-date with Malaysia and Singapore through Clover Films on July 14, followed by the UK (Cine Asia) on July 15, and Taiwan (Applause Entertainment) and North America (also Cine Asia) on July 22, following a screening on July 20 at the New York Asian Film Festival (NYAFF).